Best shopping places for Muslim travelers in Vietnam
Posted on Apr 19 2020 by hanh pham
Known as one of the most popular tourist destinations in Asia, Vietnam has attracted a huge number of halal travelers for its peaceful political situation, friendly locals and decent facilities. If you have been there, you may see that there are so many attractive items sold on the streets. But, do you know what to buy and where to find the best places to shop for Muslim travelers in Vietnam? Let's check out our list.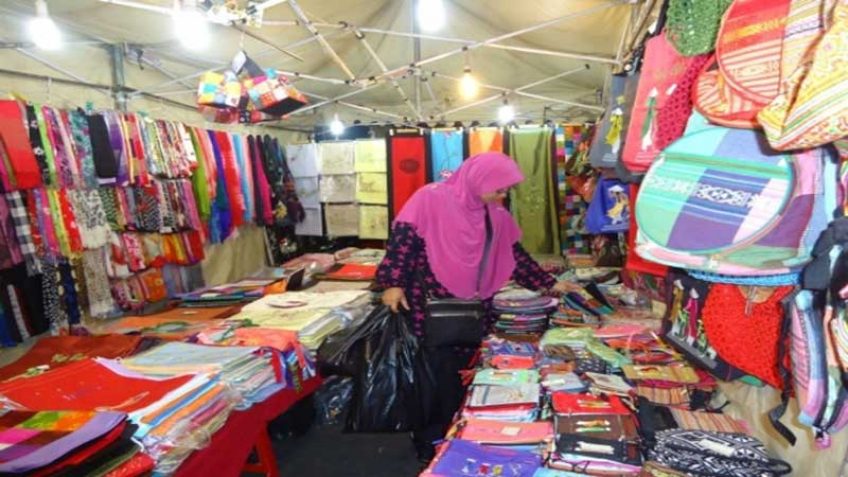 What to buy in Vietnam?
You don't need to worry about things to buy in this beautiful country. I will give you a list of the most favorite items by Muslim travelers to Vietnam.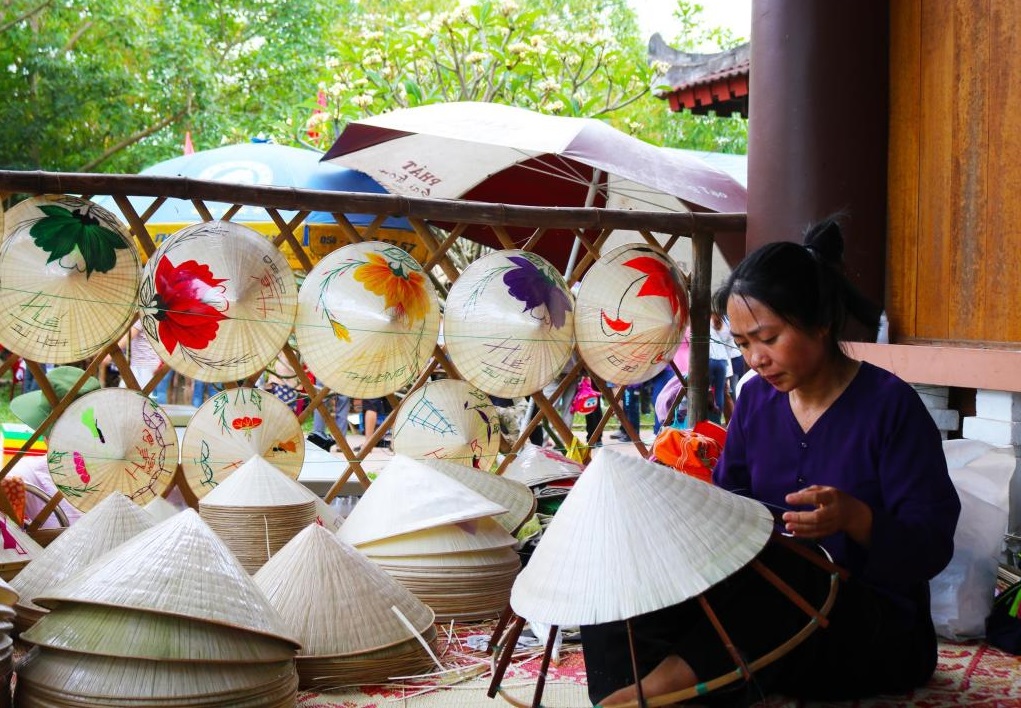 As you may know, "non la" (or so-called conical hats) is a traditional symbol of Vietnamese people. It is worn by many Vietnamese people regardless of sex, age, or racial distinctions. It is simply made of available materials such as palm leaves, bark of bamboo and Moc tree. For a long time, it has been associated with peasant lives of most Vietnamese farmers. Non la is a perfect gift for your friends and families, or you can use it for your trip in Mekong Delta because it is very comfortable and useful.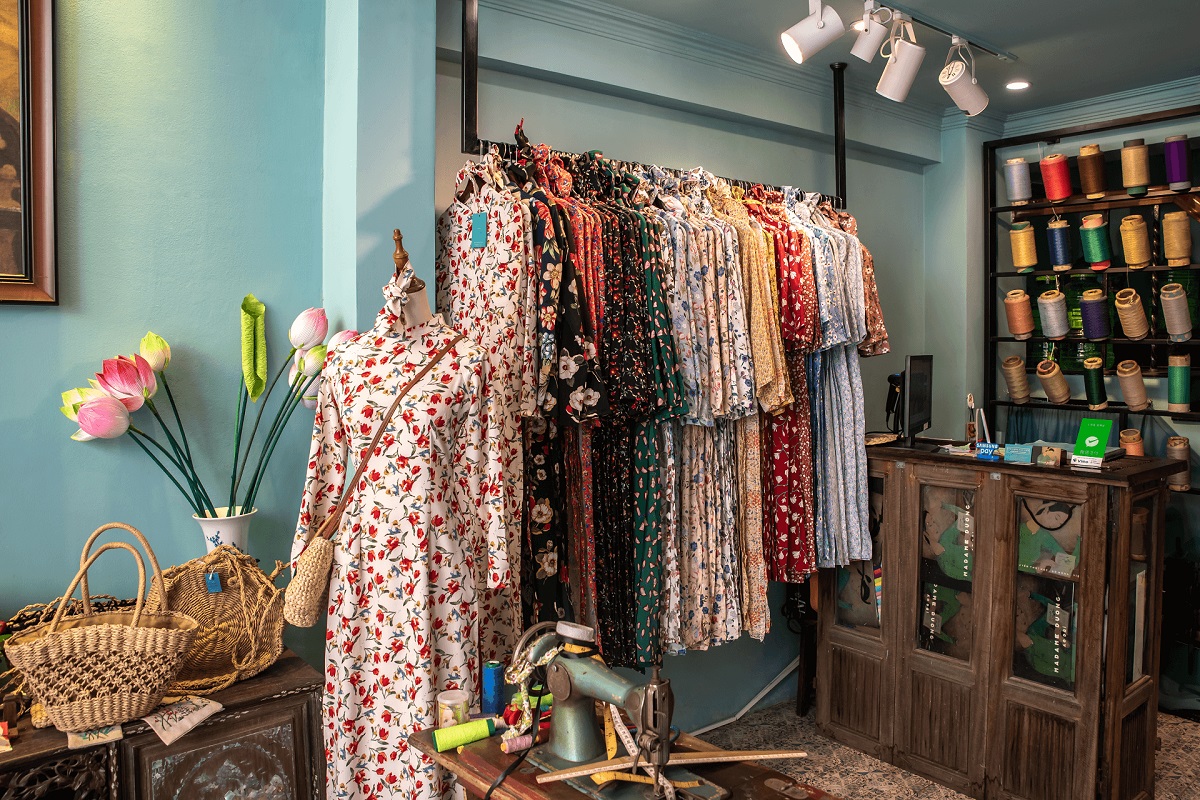 Dating back to the early 18th century, Ao dai is the symbol of Vietnamese feminine beauty and also an important part of the country's culture and mind. Made from the finest silk or some special types of soft fabrics, it not only attracts the attention of others but also ensures comfortable feelings of its owners. The price varies on materials and design. But, it is worth your money.
If you are looking for something simple but tastes great, Vietnamese tea is the best option. With a long history of planting tea trees, the country ranks 5th largest tea producer in the world. There are several kinds of tea but the most popular one is lotus tea. Bringing back home a bag of tea, it means bringing a scent of Vietnam that the whole family can enjoy together. Its scent will also help you to relax and relieve stress. The average price is around VND 100,000/ kilogram.
Once drinking a cup of Vietnamese coffee, all halal travelers want to buy some. The coffee is famous for its flavor, and can be found in most local markets, shopping malls and at the airport. The best coffee bean options are from Central Highland due to its high quality. When buying a pack of Vietnamese coffee, halal travelers often buy a traditional metal drip filter ("phin") to enjoy the coffee in Vietnamese style. The most popular coffee brands in Vietnam that you should choose are Trung Nguyen Coffee, Viancafe, and Highland Coffee.
For those who are looking for a more formal gift for your business partners, Vietnamese lacquerware is a better choice. These products require a lot of time and efforts to make it. Vietnamese artisans are proud of their lacquerware skills in making beautiful pieces such as paintings, vases, bowls, furniture, and jewelry boxes.
Apart from the above products, there are still many other things to buy such as clothes, sugared dried fruit, or propaganda posters.
Where Halal travelers should go for shopping in Vietnam?
Hanoi
Hanoi is a popular tourist destination and also a perfect spot for Muslim visitors as it has an Islam mosque right inside the city. If you are looking for shopping places for Muslim travelers, Dong Xuan Market and Old Quarter area should be on top of your list.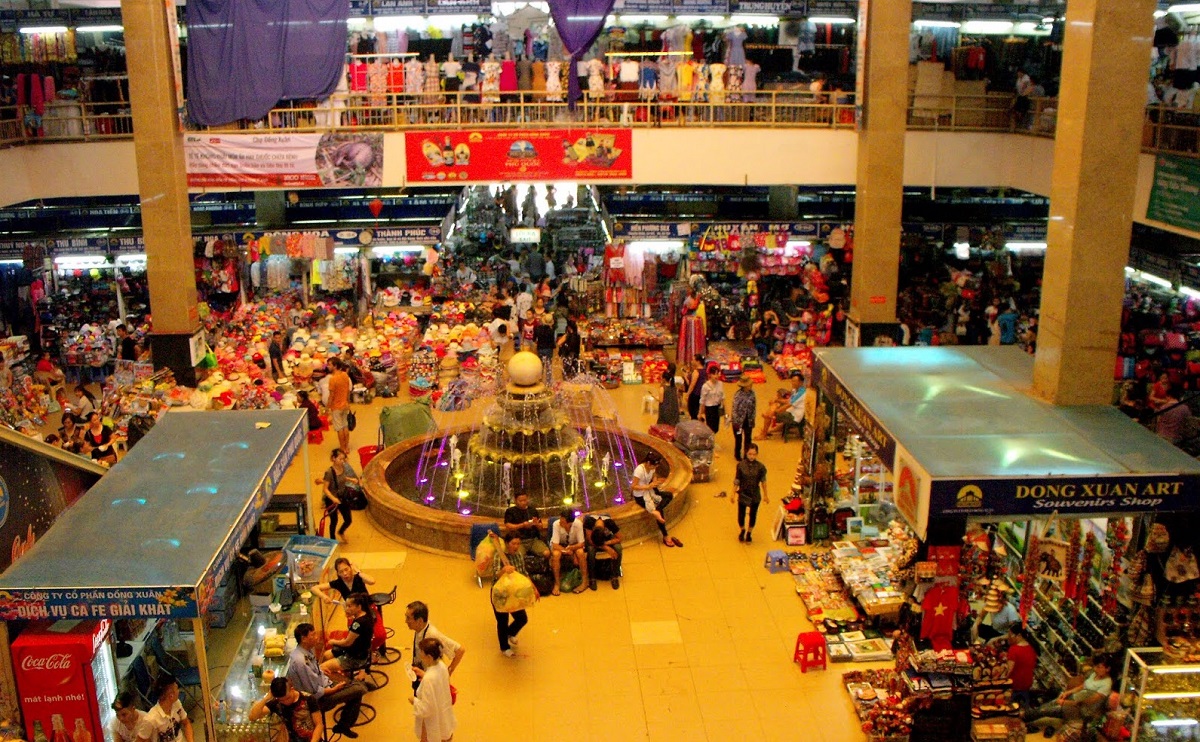 Situated on the northern edge of Hanoi Old Quarter, Dong Xuan Market is the biggest name to mention when it comes to shopping in Hanoi. Here, you can find a wide range of goods such as clothes, souvenirs, accessories, household appliances, and even fresh produce. It seems like everything is sold in this market. In the surrounding area, you also can purchase local handicrafts such as Dong Ho drawings, Binh Da embroideries, and sand paintings.
Hanoi Old Quarter is well known for the 36 trading streets. You can find specific high quality products on a specific street. For example, you can find silver items on Hang Bac street, bamboo products in Hang Be street, silk items in Hang Dao street, and fish sauces in Hang Mam street, …. Walking around Old Quarter, you can find a lot of shops selling authentic Vietnamese handicraft products like embroideries, brocade, and lacquerware, … Here are some recommended shops in Old Quarter area:
Address: 77 Hang Gai street, Hoan Kiem district, Hanoi
Address: 2C Ly Quoc Su street, Hoan Kiem district, Hanoi
Address: 38 Hang Dao street, Hoan Kiem district, Hanoi
Weekend Night Market in Hanoi Old Quarter
If you are looking for shopping places for halal travelers in Hanoi with a low budget, Weekend Night Market is the place to go. Though many other markets have developed recently, they cannot beat the Weekend Night Market. The market is famous for a plethora of small stalls selling a wide range of products including accessories, ceramics, handicrafts, … Besides, it also offers delicious local food. And, after shopping in this pedestrian market, you can enjoy many fabulous performances displayed in the walking street.
Ho Chi Minh City
Shopping in Ho Chi Minh would be one of your most fascinating experiences for halal travelers to Vietnam. With so many markets and modern shopping malls, you will get wonderful moments here.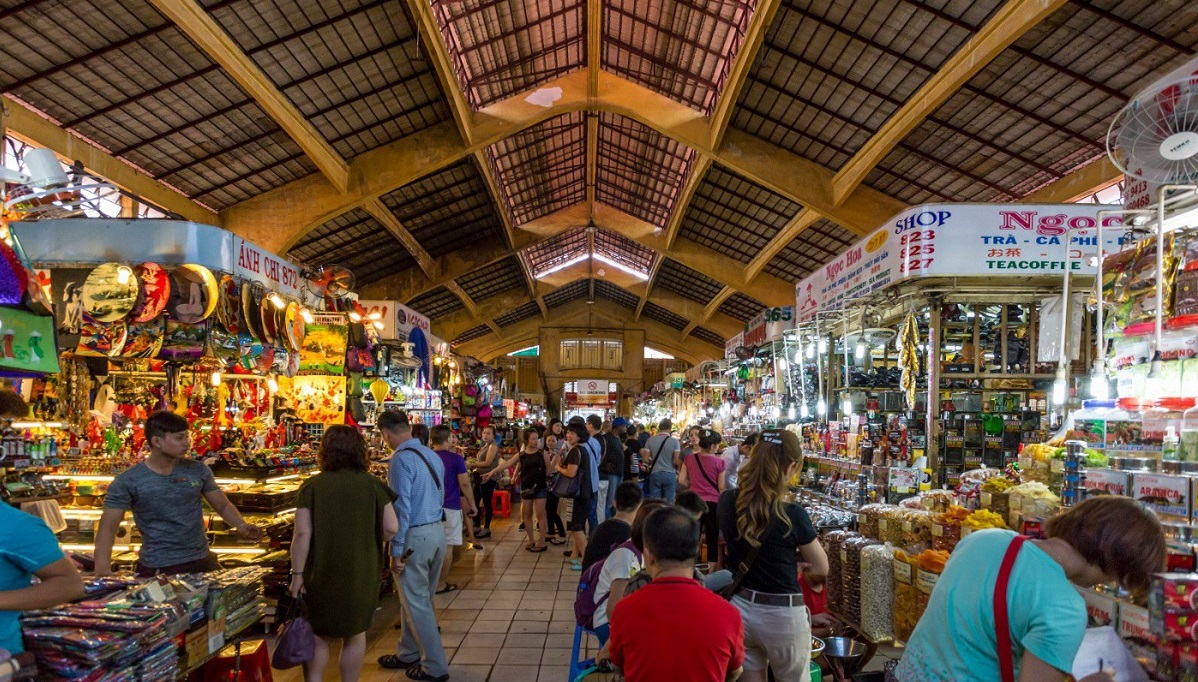 Ben Thanh Market is known as the oldest and the biggest market in Ho Chi Minh City. It is a great place to buy local handicrafts, Vietnamese art, branded goods and other souvenirs. There are up to 3000 stalls selling everything you need inside the market. It attracts up to 15000 customers including both local and foreign visitors. Most of them leave on a satisfied note.
Halal travelers are recommended to buy the clothes here. You can find every kind of clothes: shorts, skirts, dresses, shirts, or "ao dai" with a quite reasonable price. However, don't forget to bargain if you want to save your money.
Saigon Square Shopping Mall
Another favorite shopping destinations of Muslim travelers is Saigon Square Shopping Mall which is located on the corner of Nam Ky Khoi and Le Loi street in District 1. Shops and stalls are placed around the mall so you just stroll along the aisles to look for what you want. If you like any specific items, just shop around and you can find many different shops selling similar ones with various prices and qualities. There are so many things to buy but it is recommended to buy accessories and jewelry in the shopping mall.
Thoi Son Island is a famous tourist attraction that is located in Tien Giang Province, Mekong Delta. Known as the "fruit basket of Vietnam", Thoi Son Island is an ideal place to buy and enjoy fresh tropical fruits such as mangoes, durians, longans, oranges, plums, bananas, … Besides, it is also a perfect place for halal travelers to shop for traditional handicraft products. Especially, don't forget to buy coconut candies which is the most well-known specialty of the island.
Tips on shopping
In every market in Vietnam, you should bargain for a better price. You can feel free to ask the price of the products that you feel interested in. You can start by offering a 50% lower price compared to the price from the seller. They may not agree with your price but if they see potential, the sellers will ask you to give them a more reasonable price.
Smile and keep the atmosphere comfortable. Avoid being too aggressive.
In Vietnam, the more you buy, the cheaper price you get.
Check the quality of your products carefully before you pay and leave.
Vietnam is a paradise for shopping with plenty of beautiful and meaningful products. Apart from discovering wonderful places, it is always a great experience to explore the markets and grab some souvenirs to shop for Muslim travelers. We hope this guide is useful for your Vietnam shopping. Now, let's add more spark to your holiday experience!