Mosques in Vietnam
Posted on Apr 20 2020 by hanh pham
Nowadays, there are about 72000 Muslims in Vietnam, about 0.1% of Vietnamese population. So, how many mosques are there in Vietnam? Though Muslims Vietnamese doesn't count a big number, you can find up to 79 mosques in Vietnam. As most of Muslims in Vietnam are the Cham people, many mosques were built in southern Vietnam. You can easily realize that Saigon has noticeably more mosques than Ha Noi. Here, we will give you a list of mosques in Vietnam where you can visit during your trip in Vietnam.
1. Mosques in Hanoi
This is the must-visit mosque in Hanoi in case you want to make your pray here. It is called Jamia Al-Noor Mosque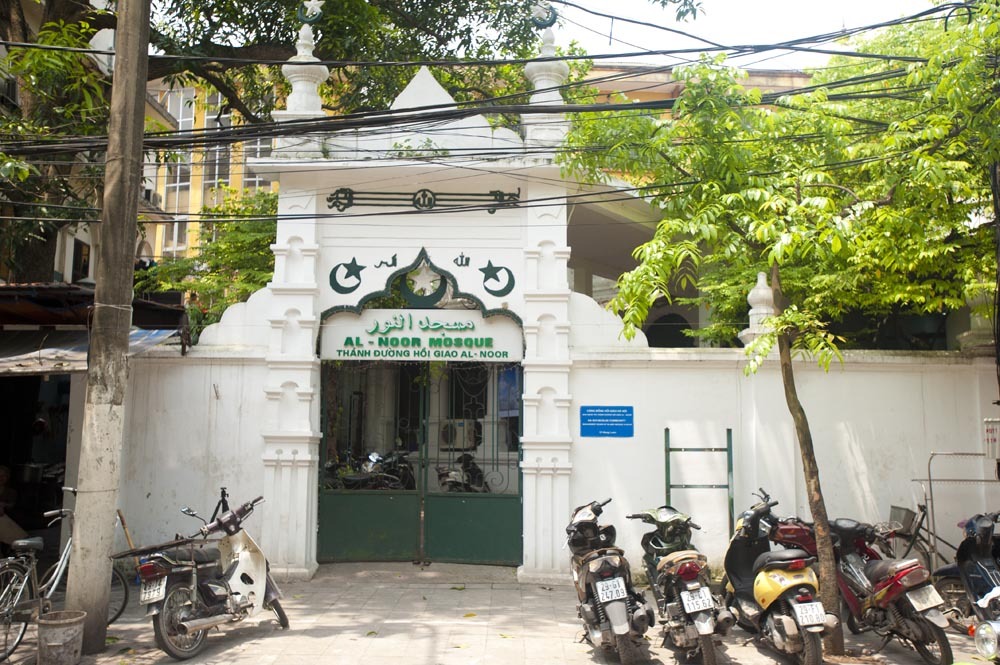 Address: 12 Hang Luoc street, Hoan Kiem district
Opening hours: 04:00 am – 10:00 pm
Located right in the Old Quarter area of Hanoi, Jamia Al-Noor Mosque is considered to be the one and only mosque in Hanoi and in Northern Vietnam. Looking from afar, the mosque gives the visitors a strong impression of an awesome mixture of its architecture and colors. Following the typical architecture of a mosque, its outside wall was painted with white oil paint.
Jamia Al-Noor Mosque has a total area of 400 square meters and was similarly designed to other mosques in the world. Every Friday, some Vietnamese and international Muslims gather here to pray around 12:30 pm.
2. Mosques in Ho Chi Minh city
Ho Chi Minh City offers you more choices for pray in mosques as follows:
2.1 Jamia Al-Musulman (Ho Chi Minh city)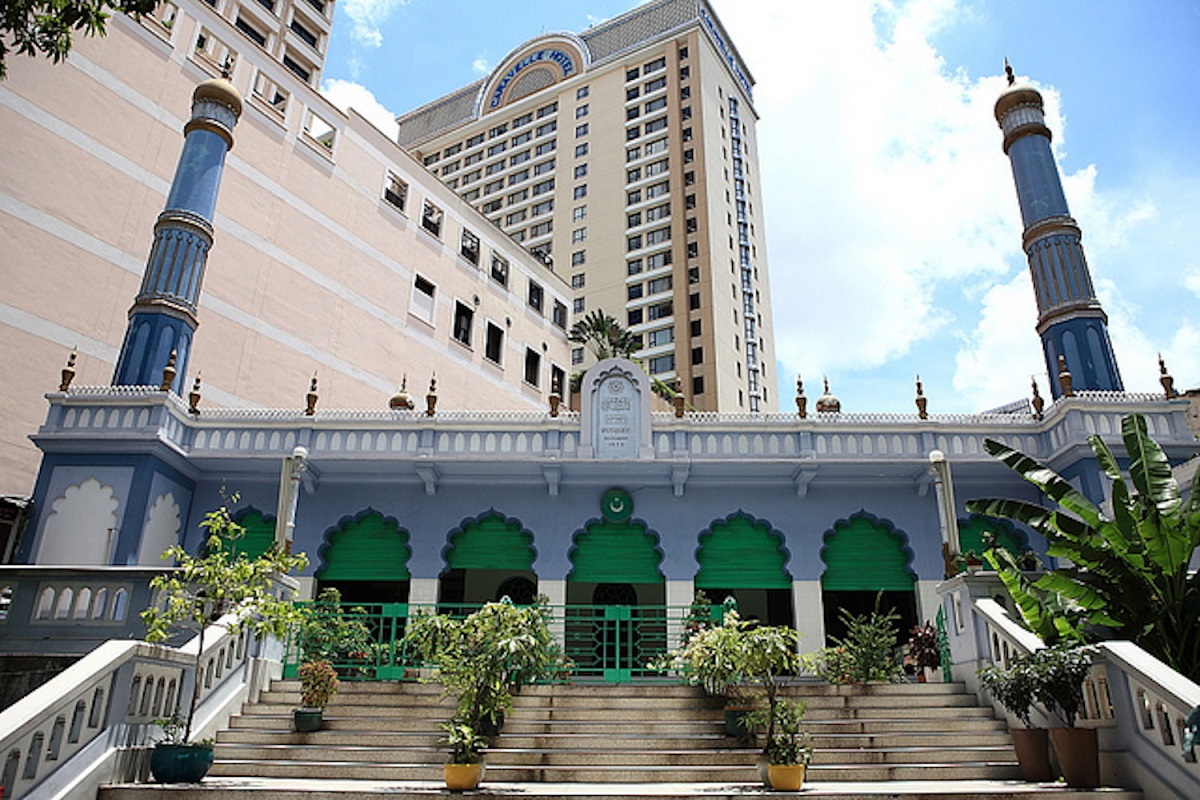 Address: 66 Dong Du street, District 1
Opening hours: 4:30 am – 9:30 pm
Jamia Al-Musulman is also called Saigon central mosque, located in the crowded and busy District 1. First built in 1935, Jamia Al-Musulman is considered as one of the most reputable mosques and also the biggest mosque in Ho Chi Minh city Vietnam. In the past, it served mostly the Muslims from Southern India living in the city. Therefore, some people call this place the Indian mosque in Ho Chi Minh city. Now, it is the place for all Muslims from Indonesia, Pakistan, Indian and local people to practice their belief. Though it looks not too large, it can accommodate up to hundreds of the Muslim believers.
2.2 Jamiul Islamiyah (Ho Chi Minh city)
Address: 495B Tran Hung Dao street, District 1
Opening hours: 8:00 am – 9:00 pm
Located in the main street, Jamiul Islamiyah is well-known as one of the most active mosques in Saigon Vietnam and the mosque near Sheraton Ho Chi Minh. And there is a sizable Muslim community living in surrounded areas. Originally constructed in 1950, it was also called Nancy mosques. After rebuilt from 1980 to 2003, it welcome the Cham ethnic minority group and Muslim followers in 2004. Serving as one of primary mosques in Saigon, it impresses the visitors by the devotion of the prayers. Besides, if you feel hungry, there are a lot of halal food options around. Just walking around the back alley, you can find Pho Muslim restaurant which serves the best Muslim noodle soup in town.
2.3 Cho Lon Mosque (Ho Chi Minh city)
Address: 641 Nguyen Trai street, District 5, Ho Chi Minh city, Vietnam
Opening hours: 3:00 am – 9:00 pm
Located in the center of Cho Lon – Chinatown area, it is easy to find this mosque. It was built in 1932 to serve Muslim communities from Southern India living in Vietnam. It is a popular Muslim mosque in Ho Chi Minh city where most Muslims come to offer prayers. Since 1975, due to increase in the number of Muslim believers in the region, it has opened for all the followers. When coming here, you will surely be impressed by the clean lines, color of the buildings, and simple ornaments of the complicated pagodas on the same street. The best time to visit Cho Lon Mosque is before lunch or dinner because you can enjoy tasty food nearby.
3. Mosques in An Giang
There are up to 3 mosques in An Giang as follows:
3.1 Mubarak mosque (An Giang)
Address: Chau Phong commune, Tan Chau district, An Giang
Opening hours: 7:30 am – 05:30 pm
Situated in the center of Muslim community in Tan Chau town, An Giang province, Mubarak mosque is one of the oldest mosques in Vietnam and easily reached by ferry. It is first built by basic materials forming cottage roof and bamboo pillars. Its appearance was then renewed with a tiled roof, wooden pillars, brick walls, and rock ground 2 centuries ago. The mosque wins the heart of visitors by the Muslim architecture with crescent moon patterns and onion-shaped peak standing out from the surroundings. Visiting Mubarak, you will also have a chance to witness a fine collection of Rapana drums which are over 500 years ago.
3.2 Jamiul Azhar (An Giang)
Address: Phu Hiep, Phu Tan district, An Giang
Opening hours: all day
An Giang is home to several mosques in Vietnam. Among them, Jamiul Azhar is known as one of the biggest mosques which is located in Chau Phong ward. Built 60 years ago, it has been through a lot of changes and renovations. The mosque looks beautiful with its sophisticated architecture, gorgeous facade, and the crescent moon (the symbol of Jamiul Azhar). The local people said that their prayer will take place in 5 different moments of a day: before the sunrise, before noon, the afternoon, the evening, and before the night. Especially, visitors can notice that there is a cemetery in front of the mosque where the Islam followers in Vietnam have been burried.
3.3 Masjid Al Muslimin
Address: Quoc Thai commune, An Phu district, An Giang province
Opening hours: 08:00 am – 09:00 pm
Opened in 2009, Masjid Al Muslimin is the biggest mosque in Vietnam. It is easily accessible by bus. Coming to this mosque, you will have a chance to enjoy the beauty of Vietnam countryside and enjoy fresh air as well as get to know local people. An interesting fact is that the mosque was built by the local people here. With a large area, it is divided into three departments: where the old people take a rest, where the men pray and where the ladies pray.
4. Mosques in Da Nang
There are no mosques in Da Nang Vietnam
5. Mosques in Sapa
There are no mosques in Sapa Vietnam
6. Vung Tau
There are no mosques in Vung Tau Vietnam.
7. Hue
There are no mosques in Hue Vietnam.
Tips on visiting mosques in Vietnam
If you are a Muslim, you are already familiar with all the mosque rules. However, for those who visit mosques in Vietnam for the first time, the visit can be sometimes harsh. So, we would like to give you some tips as belows:
Make sure you dress appropriately and remove your shoes before entering the mosques. Men should wear long pants and long-sleeved shirts and women should wear dresses covering your knees and tops. Women should also wear a headscarf.
When entering the mosques, please walk silently to find a seat at the back.
If you are female, you should go to the left side or the back of the mosque.
Shut down your mobile phone when entering the mosques and don't take photos without allowance.
You should not talk to someone during the prayer because it will distract those who are praying.
If you are curious about something, you can ask the Imam or the leader of prayer.
With the above spots for prayer, did you choose one for yourself? Let's go and enjoy!