Top Hotels with Halal Foods in Vietnam
Posted on Apr 21 2020 by hanh pham
Traveling in Vietnam will give you memorable moments and experience with beautiful destinations, unique cuisine, and friendly local people. From the natural beauty of the bays to the terraces and beaches, Vietnam has a lot to offer travelers. Finding a good place to stay will make your trip in Vietnam easier and more comfortable. Therefore, we have created a list of top Muslim-friendly hotels with halal food in Vietnam for you.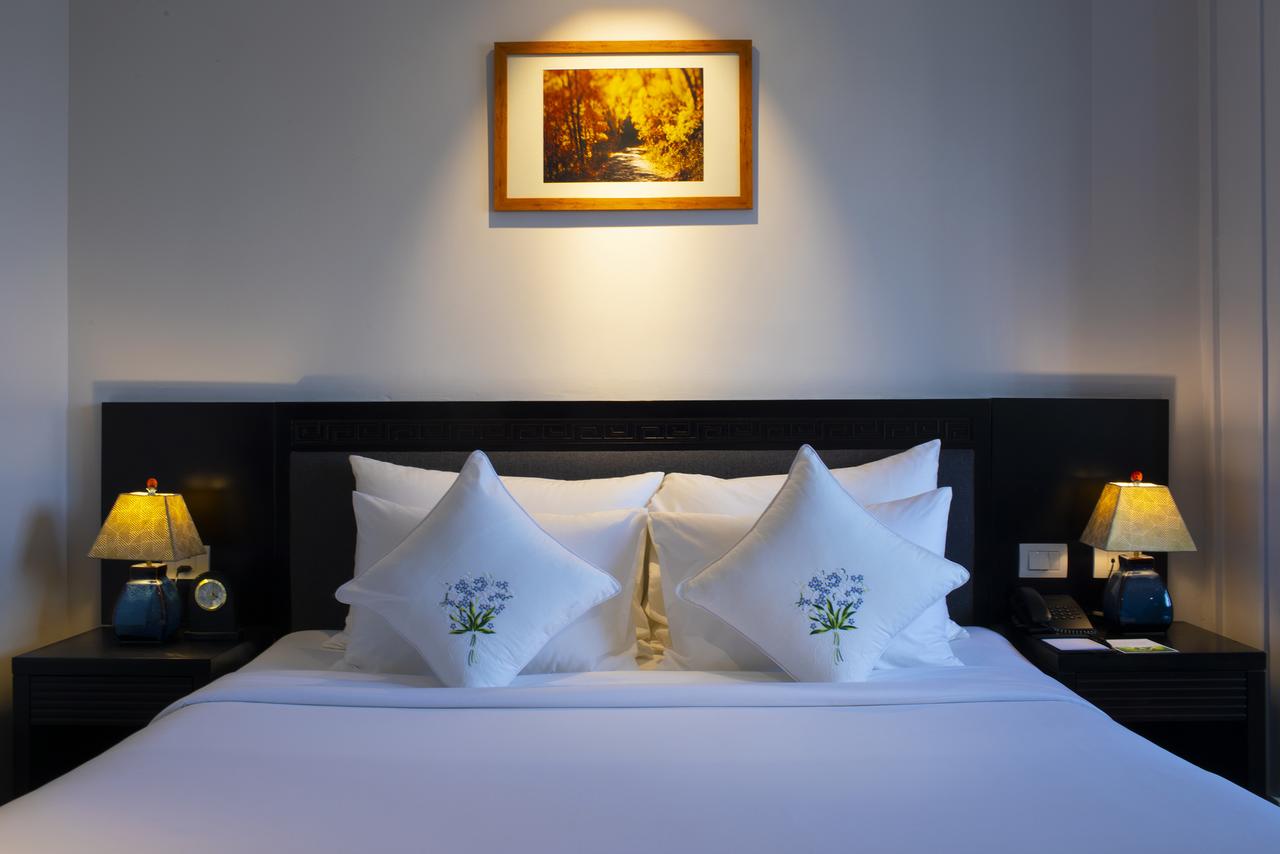 1. Cosiana Hotel Hanoi
Location: 92 Le Duan street, Hoan Kiem district, Hanoi
Cosiana Hotel has a favorable location in the heart of Hanoi -the capital of Vietnam. Though it has been operating for a short time, it has received a lot of positive feedback from its clients.
Located in Le Duan street, the hotel is next to the Railway Station, the favorite spot of many foreign visitors. As one of the best 3-star hotels in Hanoi, it provides 50 well-designed and spacious rooms.
The hotel is a great combination of Eastern and Western architecture, creating an alluring charm for the hotel. Especially, it would be really convenient for Muslim to stay here because you can find delicious halal food right on the 8th floor of the building. Its halal food in Vietnam hotel is really worth your stay here.
2. Hanoi Golden Silk (Hanoi)
Location: 109-111 Hang Gai street, Hoan Kiem district, Hanoi
Located in the Old Quarter, the hotel gives you a chance to enjoy the authentic traditional beauty of Hanoi. You can easily walk to some famous destinations nearby including Hoan Kiem Lake, St Joseph's Cathedral, Weekend Night Market, and Water Puppet Theatre.
With gracious style, stunning views, and impressive design, the hotel promisingly brings the customers a remarkable luxury experience. There are different types of rooms, consisting of 26 deluxe rooms, 14 luxury city-view rooms, 4 luxury Suites, and 1 presidential suite.
The halal meal prepared by experienced and professional staff will be served at Oriental Restaurant. Besides, the hotel also provides various services like a spa, a Rendezvous piano bar, and a souvenir shop.
3. Sunway Hotel Hanoi
Location: 19 Pham Dinh Ho street, Hai Ba Trung district, Hanoi
Sunway is an excellent 4-starhotel with halal food in Vietnam that belongs to Sunway International Hotels & Resorts that runs 14 hotels in Asian.
There are a total of 145 rooms and suites, providing you a wonderful sense of modern pleasures and traditional appeal. All the rooms are equipped with full facilities like a water heater, refrigerator, and electric deposit box. To serve the customers best, it also has a sauna, 24-hour fitness center, and money exchange facility.
Because the hotel welcomes a lot of halal travelers, it also has the restaurant called Allante serving halal food. Even if you don't stay here, you can visit the restaurant to enjoy the best halal dishes of this restaurant.
4. Sai Gon Pink 2 Hotel
Location: 32 Nguyen An Ninh street, District 1
Just five minutes' walk from Ben Thanh street, you will find Saigon Pink 2 Hotel. The hotel provides modern rooms with 24-hour service and free Wifi access. A room is equipped with a flat-screen TV, air conditioner, a minibar and an electric kettle. There is also a private bathroom with bath and shower facilities. The 24-hour front desk is always of assistance with airport shuttle, laundry and photocopying services.
Halal breakfasts are served right at the hotel and there are a couple of breakfast choices for you. Let's come and enjoy.
5. Alagon Western Hotel
Location: 28-30 Nguyen An Ninh street, Ben Thanh ward, District 1, Ho Chi Minh city
Set in the center of Saigon city, Alagon Western Hotel is the place where you can enjoy the convenient access to major destinations in Ho Chi Minh city, like Ben Thanh market, Takashimaya Vietnam, Reunification Palace, Fine Arts Museum, and General Post Office.
The tasty dining experience is a highlight of the hotel with delicious dishes made from professional chefs. The hotel is one of the halal travelers' first picks in Ho Chi Minh city. So when will you go to Vietnam and which city will you visit? Hope that you can find your favorite hotels with halal food in Vietnam from the above list. Please contact us if you need any support for finding a Muslim friendly place to stay.