Hanoi Travel Guide for Muslim Travelers
Posted on Apr 20 2020 by hanh pham
Hanoi, the capital and also the second biggest city in Vietnam, is for sure an ideal destination for halal travelers. Less hectic than Ho Chi Minh city and famous for its antique charm, Hanoi has plenty of interesting things and places to be discovered. For the first timers, you may find it a little hard to go to the right places and do the best things for a perfect trip. So, let's check out our comprehensive Hanoi guide for Muslim travelers to know what to do, where to find halal food, and where to stay in Hanoi.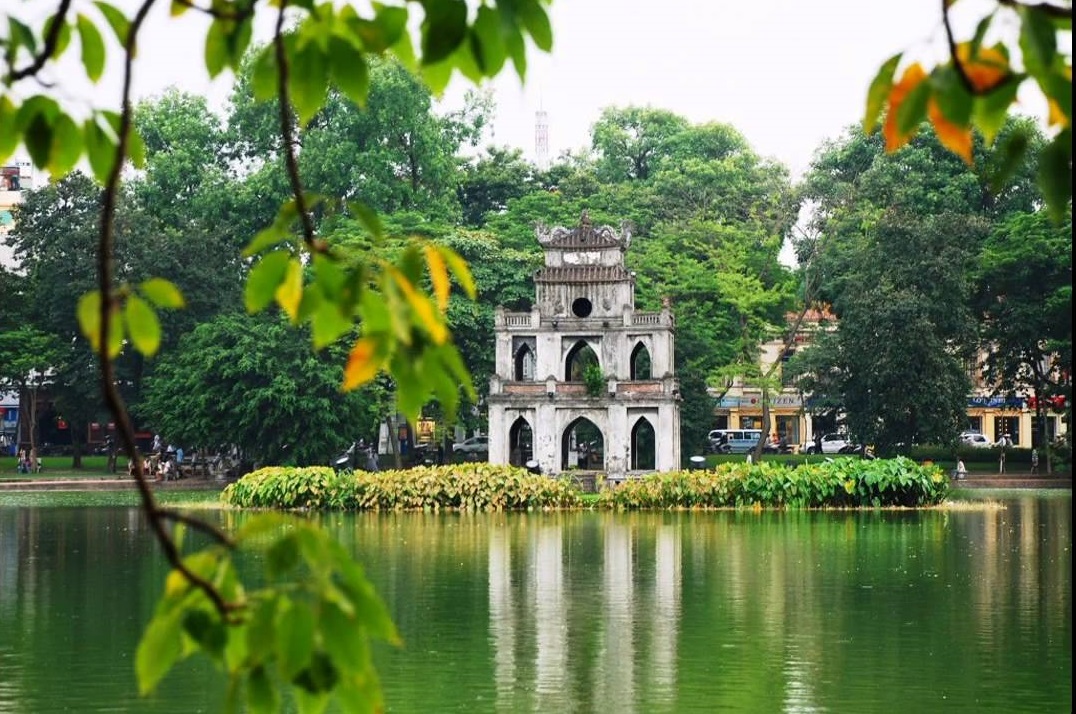 Best Time to Visit Hanoi
Hanoi has 4 seasons in a year: Spring, Summer, Autumn, and Winter. It would be quite difficult to give a firm prediction of the weather in Hanoi. However, Autumn is always the best time to visit this capital city when the weather is cool and more relaxed than other time periods of the year. Also, leaves fall during these days so you have a chance to enjoy the beauty of Hanoi
How to Get in and around Hanoi
When arriving in Noi Bai Airport, there are 2 popular options for you to get to the center of Hanoi:
By public bus: Traveling by bus can save your cost but it takes longer time. You have to pay just around $1.8 and wait for 1 hour and 15 minutes to get to the old quarter.
Taxi: Taxi is preferred by most Muslim travelers. It takes about 45 minutes to get there and you can expect to pay VND 200.000 to VND 300.000 for the taxi driver.
To get around Hanoi during your stay, there are several means of transportation that you can choose from: public bus, motorbikes, or cyclo.
Best Things to Do in Hanoi for Muslim travelers
Enjoy Sunset on Long Bien Bridge: Among the places for watching sunset, Long Bien Bridge is the best one which attracts hundreds of visitors a day. Connecting 2 banks of the Red River, it is considered the symbol of the courageous capital in the wars. Though many decades have passed by, it is still there and shows its magnificent beauty, especially when the sun goes down. So if you have a chance to come to this bridge, don't miss the amazing sunset here.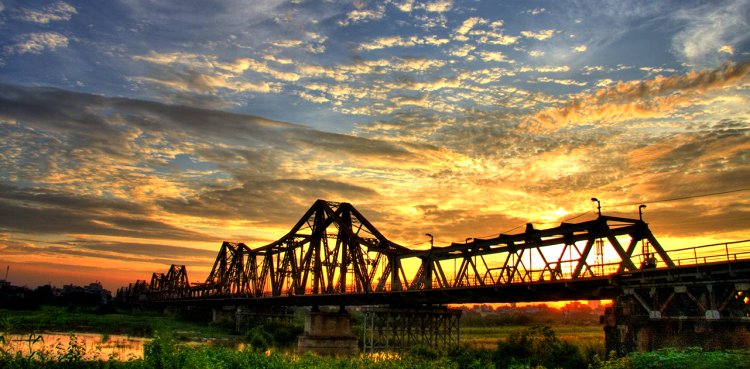 Walk around Hoan Kiem Lake: No visitors leave Hanoi without visiting the Hoan Kiem Lake, which is considered the center of Hanoi. This is where you can see many locals gather and take part in different activities such as jogging, fishing, and strolling. Walking around the Lake gives halal travelers in Hanoi to get to know more about the daily life of local people in the old quarters as well as join some traditional games there with them. Vietnamese people are very friendly so it is easy to start a conversation with them.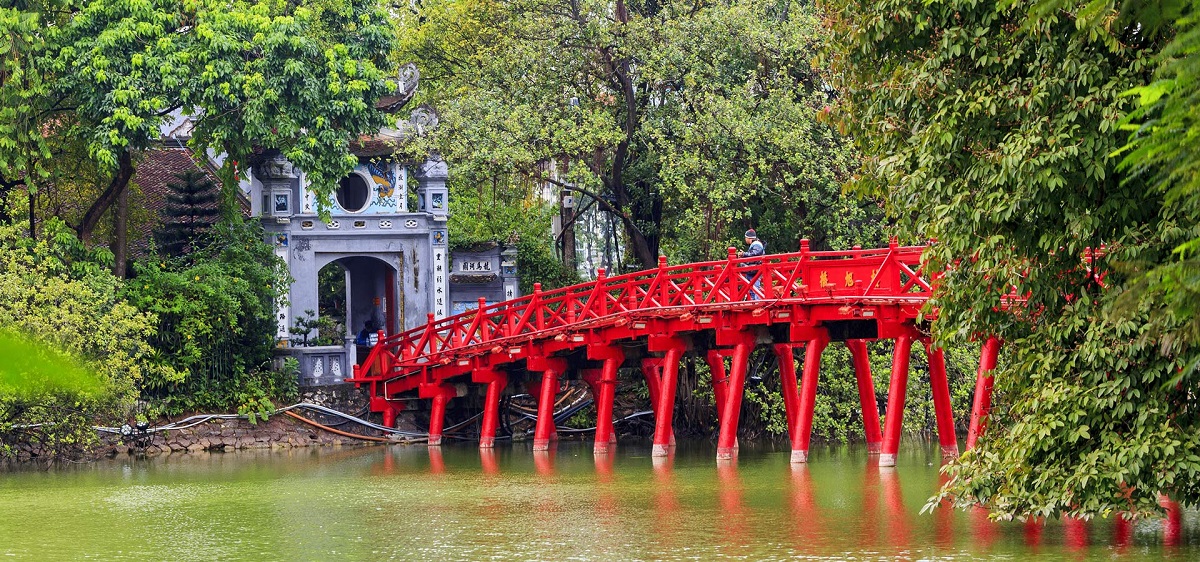 Try the Egg Coffee: If you are a fan of coffee and dessert, Hanoi egg coffee is a must-try. It is a kind of coffee with sweetened condensed milk, sugar, and whisked egg yolks. It would be a little hard to imagine but it tastes like creamy and soft meringue in your coffee and it is so yummy. The best place to try this coffee is Giang Cafe in Nguyen Huu Huan street.
Watch a Water Puppet Performance: Water puppet show is one of the most historically significant and entertaining shows in Hanoi. You may initially think that it is similar to other puppet shows that you have watched. But the difference is its antiquity with wooden and lacquered puppets. It is performed in water and there is a large bamboo rod to support and move the puppets on the water. Most of the water puppet shows represent the beauty of Vietnamese countryside and culture. Don't miss your chance to enjoy a performance in the evening.
Go Shopping in the Weekend Night Market: Occupying some streets in the Old Quarter, the market is 3 kilometers long. You are free to wander around the market and shop for some souvenirs. The weekend market is open from 7 pm until late evening, attracting a large number of visitors from around the world. The best things to buy for your Muslim friends like postcards, ceramics, jewelries, and clothes, etc. can be found here.
Admire Tran Quoc Pagoda: Located on an island of the West Lake, Tran Quoc Pagoda is the oldest pagoda in Hanoi with more than 1500 years old. If you want to know more about the biggest religion in Vietnam – Buddhism, there is nowhere else better than this pagoda. Apart from religious knowledge, you also have a chance to understand its historical values as well as valuable treasures of culture and architecture.
Visit Al Noor Mosque in Hanoi: A great thing about Hanoi is that Muslim travelers in Hanoi can visit the Al Noor Mosque right in the Old Quarter area. Opened in early 19th century, it is the only mosque in Hanoi Vietnam where the Muslim can meet and satisfy their religious needs. Built in the typical Islamic style with the pinnacle, curved doors, and a dome, it is where the faithful should go to pray.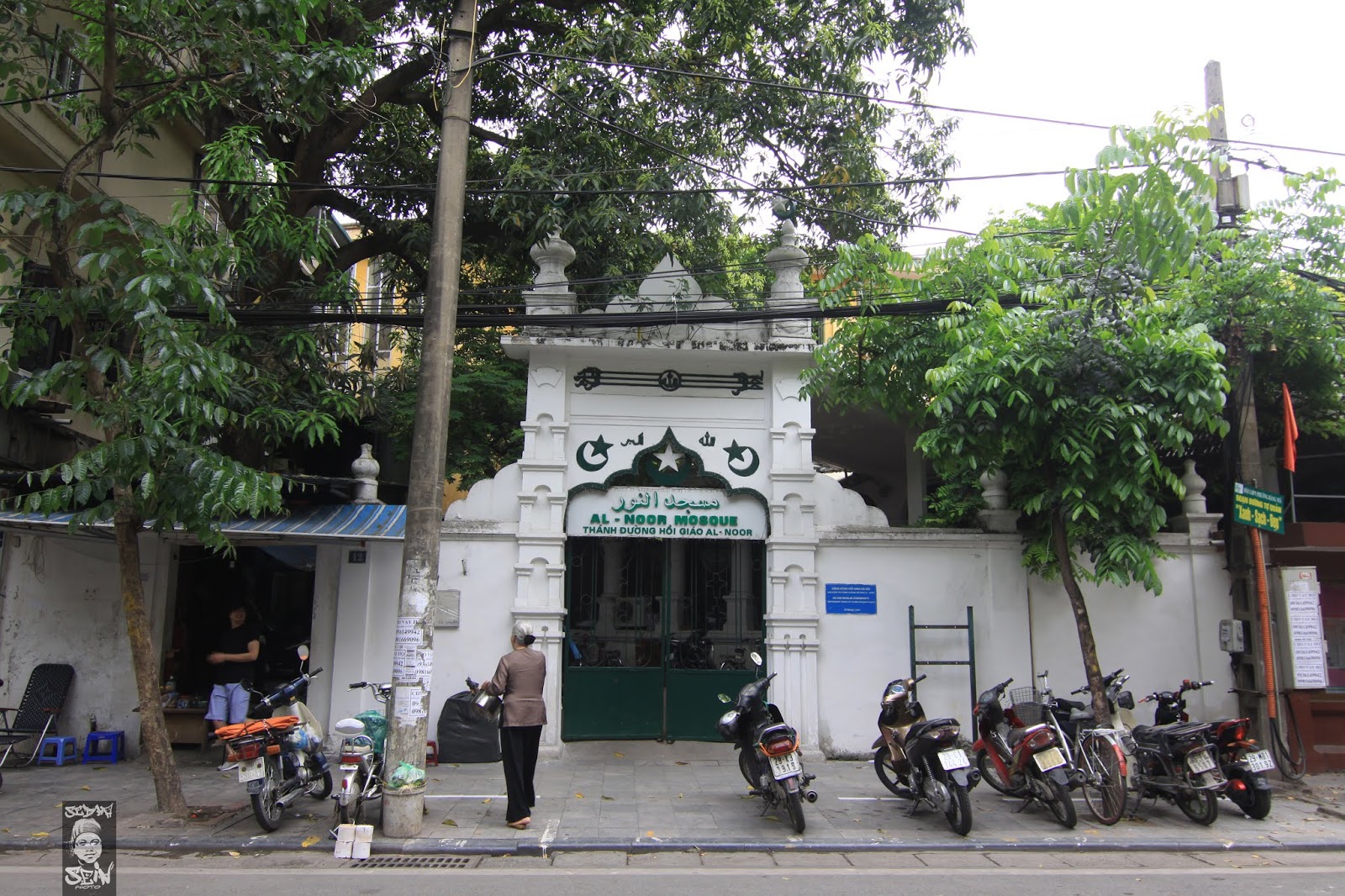 Where to Find Halal Food in Hanoi
Eating in Hanoi can be not easy for halal travelers when you don't know where to find halal food. Here is a list of the best Muslim restaurants for you:
1. D'Lions Restaurant:
Address: Ground & 8th floor of Cosiana Hotel, 92 Le Duan street, Hanoi
The restaurant impresses diners with a warm space and an amazing view to the train station. This is an ideal place to escape the hustle and bustle of Hanoi. This restaurant is famous for Singaporean and Malaysian food for the Muslim travelling to Vietnam. Some of their signature dishes include fish head curry, fish curry, crab, seafood, and noodles.
2. Nan N Kabab Halal Restaurant
Address: 49 Xuan Dieu street, West Lake, Hanoi
The restaurant offers an elegant, romantic, and relaxed dining atmosphere. Designed in exotic Middle Eastern style, it gives you a feeling of your hometown. The restaurant specializes in Middle Eastern, Pakistani, and Afghani Cuisine. There are plenty of food choices for you such as freshly baked Nan Bread, Meat Karahi, and charcoal grilled barbecue, etc. With warm and friendly service, this restaurant is a great spot for a friendly Muslim get together.
3. Zaika Vietnam – Indian Restaurant
Address: 13 Hang Dieu street, Hoan Kiem district, Hanoi
The restaurant aims at bringing the halal travelers to Hanoi home cooked dishes that are cherished by most families in India. Located in the Old Quarter area, it has a contemporary ambience with awesome food made from local fresh produce and ingredients. There is also a lounge bar with a fine collection of wine, beers, etc.
Where to Stay in Hanoi
Visited by so many visitors each day, Hanoi has plenty of hostels and hotels with different ranges of renting fee and quality. That's why halal travelers find it hard to choose one to stay during your trip. Here is a list of the best areas to stay in the city. Let's check it out:
Hoan Kiem (or Old Quarter area): Most of Muslim travelers choose this area to stay. It is actually a convenient but expensive area. From here, you can easily reach other tourist attractions like traditional shops, temples, and old gates. Some are even located within walking distance. The center is considered the historic soul of the capital which will give you a great convenient and cultural experience.
Truc Bach: Though there are less accommodation options, this area is an ideal place for those who are looking for a peaceful atmosphere and lakeside relaxation. It is just about 5 to 10 minutes to drive from here to the Old Quarter and Ba Dinh district. You should consider staying in Truc Bach if you look for a quieter and laid back vibe.
Hai Ba Trung: If you want to get more market experience, don't forget to check out Hai Ba Trung. The place offers great food, and a typical daily life of Hanoian. There are also lots of bars and pubs to rewind found in this area. So, if you want to stay in Hanoi for an extended stay, Hai Ba Trung is highly recommended.
Hanoi travel tips for Muslim travelers
To make your trip to Hanoi easier, we will give you some tips as below:
Plan your itinerary well: Hanoi could be listed as a tricky place to visit. You may find out that there are so many places to visit and so many things to do. However, don't force everything on your itinerary. It's better to read the reviews carefully and choose your most favorite things to mention in your itinerary.
To avoid petty theft and pick-pocking, it's better not to bring lots of cash. Keep your valuable items like jewelry at your hotel.
Though Hanoi is quite peaceful and safe, there are still scams. So, you should do some research carefully before contacting a travel agent and booking a tour. Also, be sure to count your change. Sometimes, halal travelers tend to mistakenly pay the wrong change. For example, some pay VND 200,000 instead of VND 20,000.
If you want to save your money, bargaining skills are a must. And, you can try street foods which are quite delicious and their prices are reasonable. Or, you can ask your hotel staff for advice on where to go and eat. As they are local people, they know every corner of Hanoi and their advice is worth listening to.
With the above Hanoi guide for Muslim travelers, are you ready for your Muslim travel in Hanoi? Let's go and don't forget to share your experience with us.