A Delicious Halal Food Tour With Halal Snacks In Vietnam
Posted on Apr 22 2020 by hanh pham
Vietnam does not only leave impressive in foreign tourists with antique constructions, unique culture but our country is also famous for mouth-watering dishes that make every visitor eat once and remember forever. Have you ever wandered on busy streets in Vietnam and drawn your eyes to street food stalls with such attractive dishes that make you sit down and have some snacks? Besides the fast food of famous brands in the world, Vietnamese cuisine is also extremely imposing, even to Muslim travellers, with a variety of tasty dishes.
Why don't you join us in our discovery today and explore the halal snacks in Vietnam?
1. Sweet Desserts (Che)
If you are a sweet-lover, sweet desserts are a selection that you should not miss. This dish is made of many ingredients such as beans, violet glutinous rice, fruits, condensed milk, yoghurt, agar, coconut milk, caramel and so on. The main component of traditional Vietnamese sweet desserts is green bean, black bean, small red bean, bush-bean, which are cooked until they are well-stewed.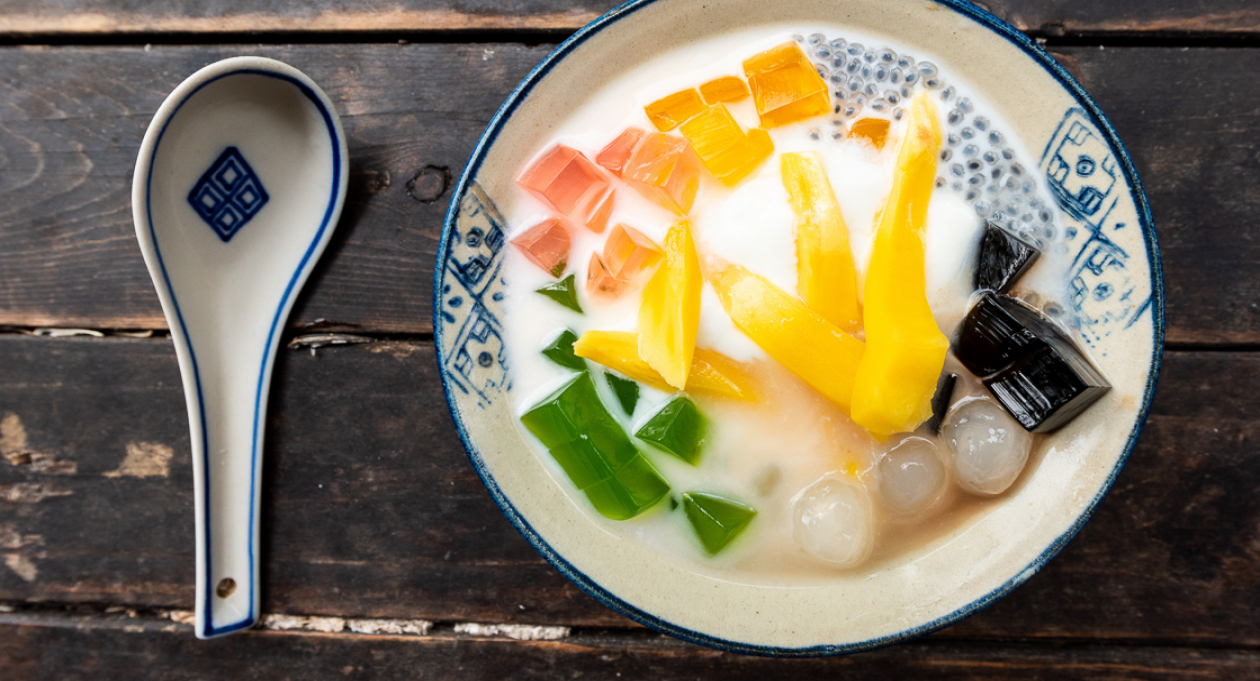 You can choose plentiful kinds of "che" such as grapefruit che, durian che, banana che, mixed fruits che, small red bean che and so on. In some stalls, you will be able to make sweet desserts on your own with the available ingredients. On a hot summer day, dropping in a street food stall and having a dish of sweet desserts is one of the best experiences you can have with halal Vietnam snacks.
Recommended places: The Old Quarter, Hoan Kiem District, Hanoi
2. Fried Shrimp Cake (Banh Tom)
This specific dish is a unique specialty of Tay Ho District, Hanoi. This type of pastry is made of freshwater shrimp of West Lake which then is covered with flour and fried in boiling oil.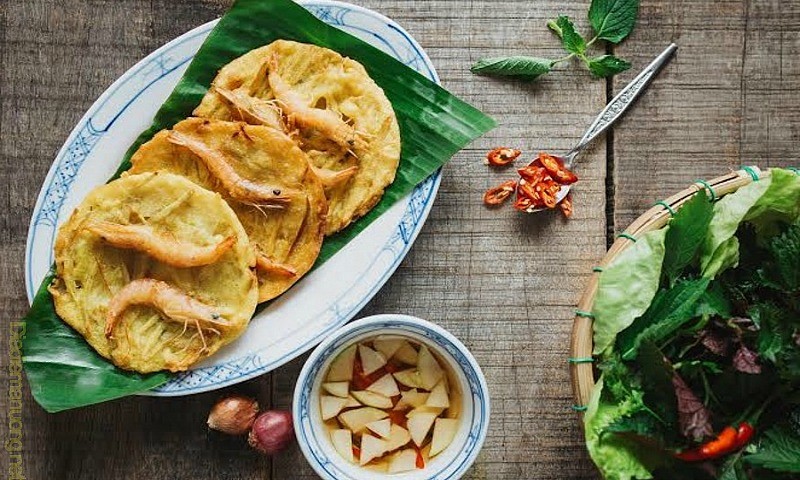 Fried shrimp cake is served with dipping sauce made from fish sauce, lemon juice, sugar, vinegar and garlic. The garnishes of fried shrimp cake include coriander, lettuce, Thai basil, cucumber, rice noodles and pickles ( fermented papaya and carrot). Fried shrimp cake is a perfect combination of sweetness, sourness and spiciness, which for sure will leave diners long-lasting impressions.
Recommended places: Along West Lake and Truc Bach Lake, Tay Ho District, Hanoi
3. Porridge
Vietnam has a traditional agriculture, and one of the most outstanding products of this agriculture is rice. The next dish in the list of halal Vietnam snacks is porridge, a familiar dish of Vietnamese made of rice. There are many types of porridge for you to enjoy like chicken porridge, fish porridge, bivalve porridge, green bean porridge and so on. The names of these types are based on the ingredients that are combined with rice to make porridge. In some stall, this dish is served with fried bread, an other typical food of Hanoi
Recommended places: Ta Quang Buu Street, Hai Ba Trung District, Hanoi
4. Fried Pancake (Banh Xeo)
Banh xeo is found everywhere in Vietnam, each region has a little bit difference in the ingredients and the way it is made. The crust of banh xeo is made of rice flour mixed with a bit of turmeric flour in order to create the yellow color for the crust. In the filling of banh xeo, beside the main ingredients such as shrimp and bean sprout, there are egg (in South Vietnam) and India taro (in North Vietnam).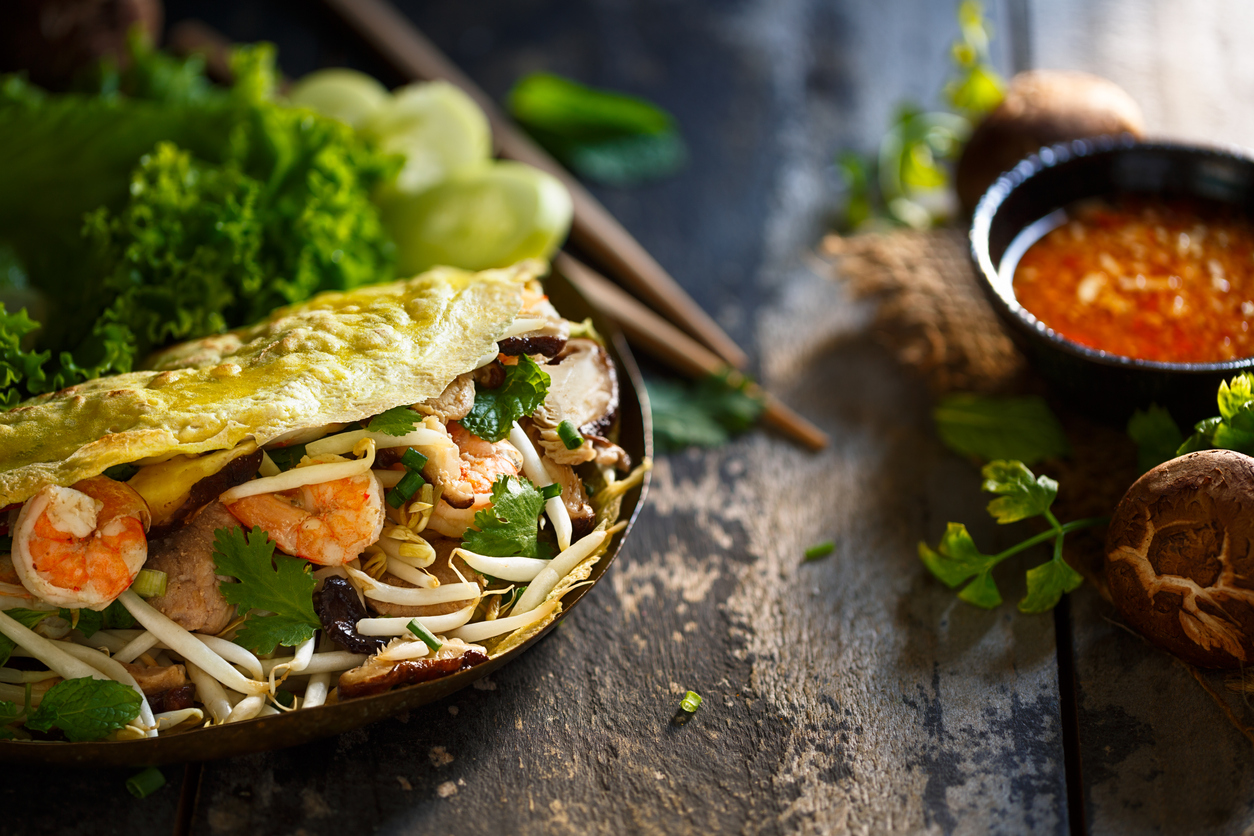 Fried pancake is eaten with dipping sauce made of fish sauce or soy sauce with garlic, lemon, chili and garnishes like lettuce, cucumber, perilla and basil. A halal snack food tour in Vietnam will not be complete without banh xeo.
Recommended places: Yen Phu, Tay Ho District, Hanoi
5. Mixed Rice Paper (Banh Trang Tron)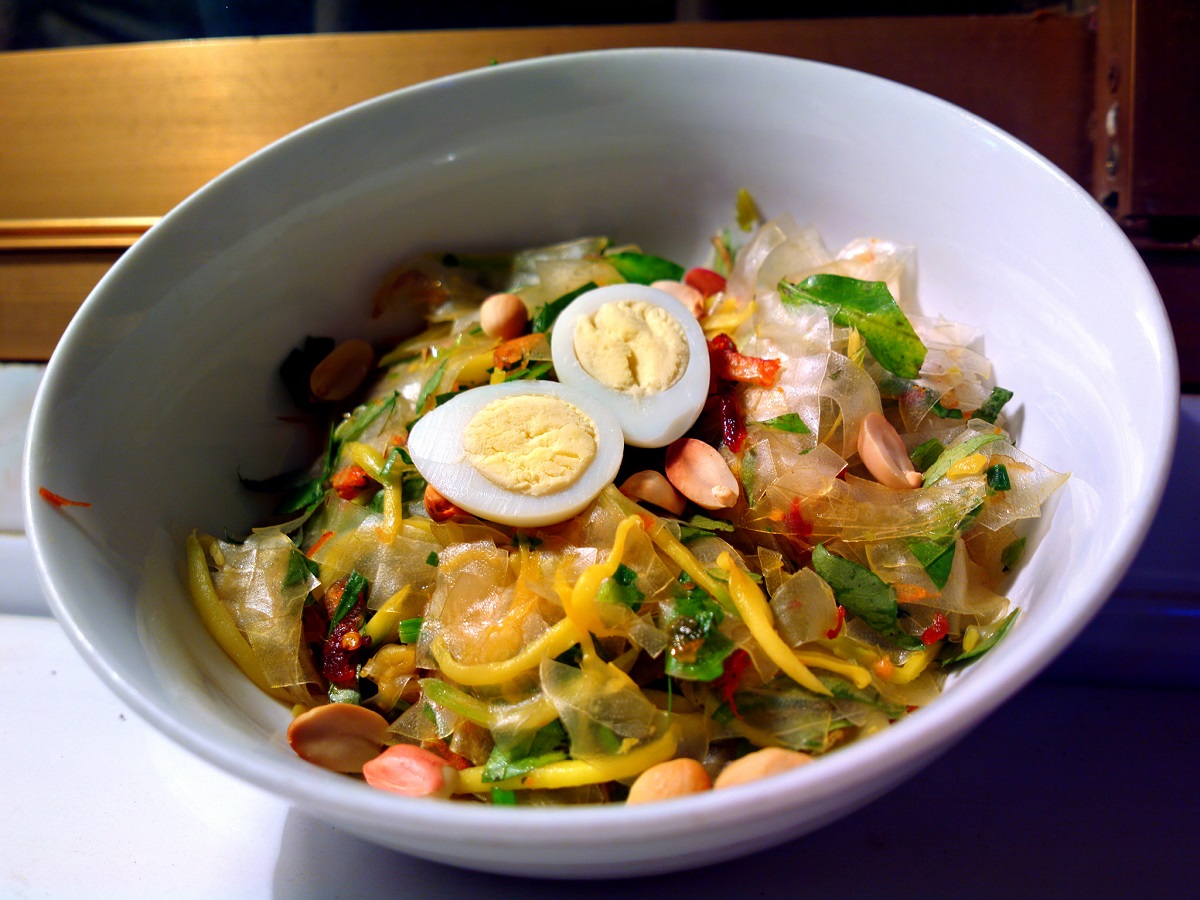 Mixed rice paper is a democratic food, especially popular in the food stalls near schools. The ingredients of mixed rice paper are rice paper, mango, dried spicy beef, Vietnamese coriander, quail eggs and sauce. All the components are put in a bag or a dish, and the diners will toss them on their own when eating.
The taste of mixed rice paper is the combination of sourness, spicy, saltiness and sweetness. Coming to Vietnam, you should not skip this impressive dish that is sold in almost all school gates in Vietnam.
Recommended places: Nguyen Khanh Toan Street (Hanoi), Tortoise Lake (Ho Chi Minh City)
6. Banh Can
Banh can is a popular pastry in the South Central of Vietnam , especially in the provinces of Khanh Hoa, Ninh Thuan and Binh Thuan. Making banh can usually require a special mold, usually made of earthenware, and has many round holes to place the mold. Because banh can is quite small, it is usually sold in pairs and the filling includes onion, oil or egg.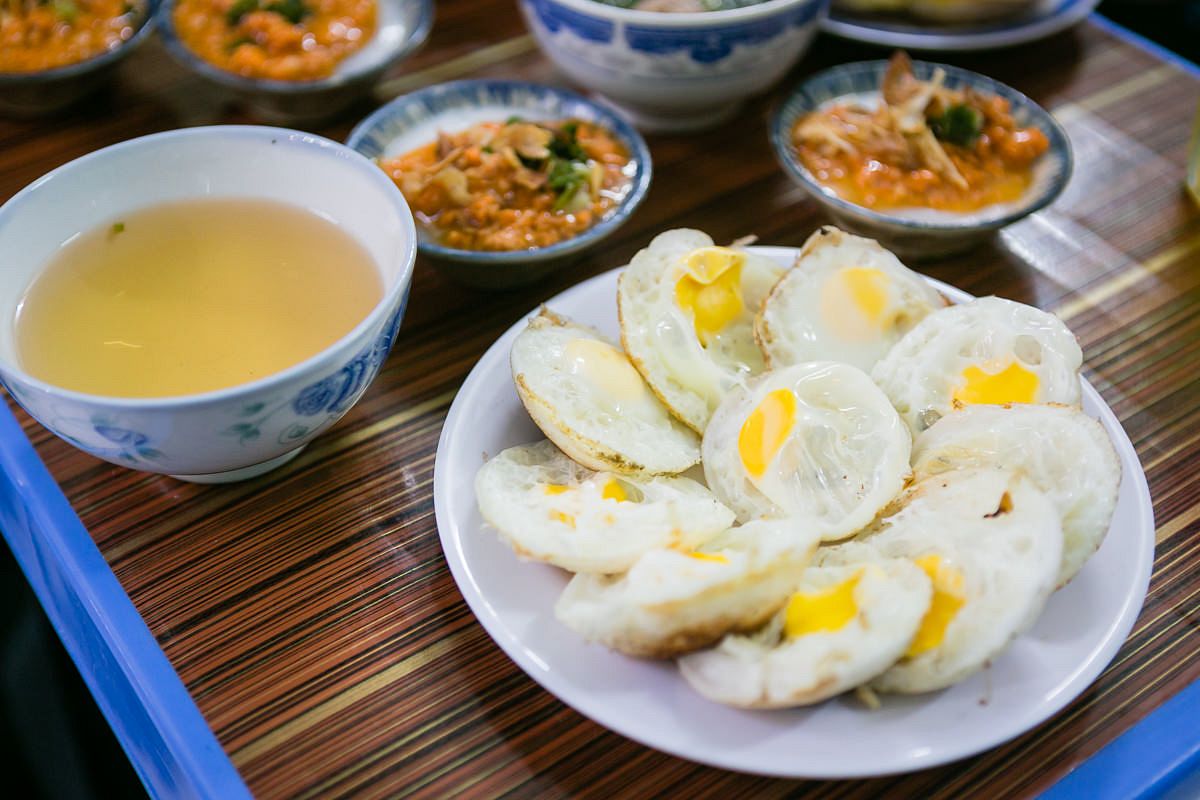 Banh can is not usually served with raw leafy vegetables, but often served with green mango, star fruit, minced cucumber. The accompanying sauce is usually diluted fish sauce, garlic and chili. Dipping sauce can add fried onion to add flavor and nutrition.
Recommended places: Nha Trang (Khanh Hoa), Mui Ne (Ninh Thuan), Da Lat (Lam Dong)
7. Dried Beef Salad
Among the most popular and attractive snacks in Ho Chi Minh City, dried beef salad is always the preferred choice.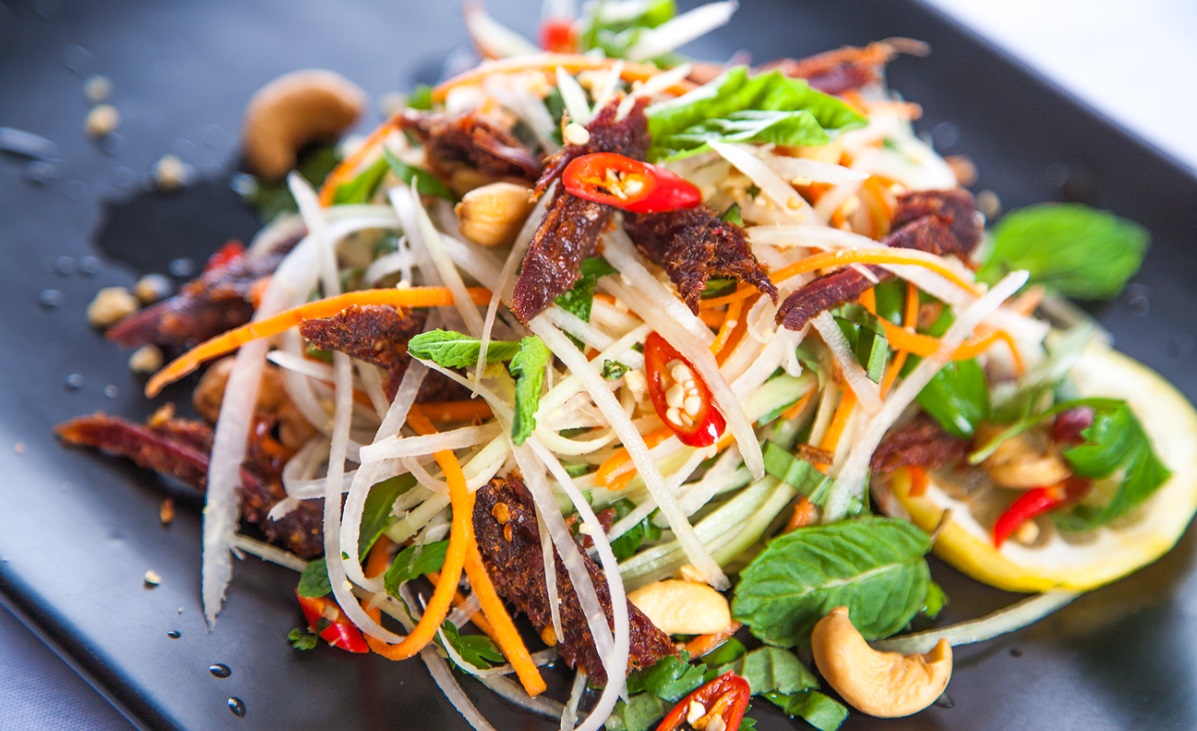 With the crunchiness, freshness and the rich flavor of the dried spicy beef, the dish makes people want to eat more than once. The highlight feature that makes the plate of dried beef salad more attractive is the rich sauce. Thanks to that, each strand of papaya permeated a little sweet, more spicy of satay and chili sauce. The topping of dried beef salad comes with full flavor with dried beef, crispy fried bread, persicaria leaves and aromatic peanuts.
Recommended places: Le Van Tam Park, Ho Chi Minh City.
Above are our suggestions for halal snacks in Vietnam. Have you decided on a list of dishes to try in your Vietnam halal food tour? If you have any questions, don't hesitate to ask in your comment and we will answer as soon as possible. We also wish you a wonderful trip with halal Vietnam snacks.