Best Halal Pho in Vietnam, Hanoi And Ho Chi Minh City
Posted on Apr 22 2020 by hanh pham
Vietnam, a beautiful country in Southeast Asia, is the intersection of diverse culture from many countries all over the world. Beside the features that are acquired from Chinese, European and some other Asian countries, Vietnam still reserves its own cultural identity in the daily life of the residents, especially in the specific local cuisine. One of the most famous specialties in Vietnam that every tourist has to try when coming to any cities there is pho.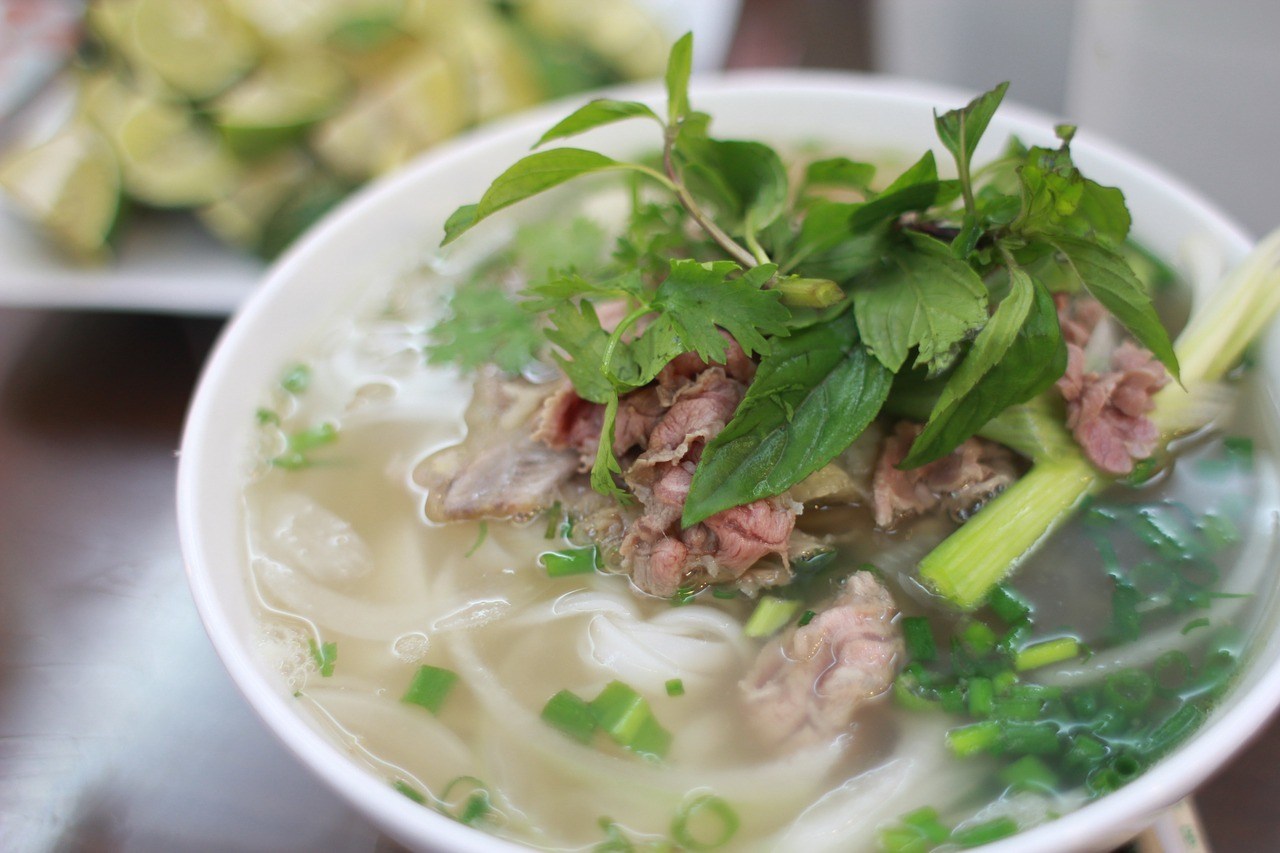 Vietnamese pho is an ideal choice for Muslim travellers whose demand for dishes is quite strict with some certain rules. Halal pho in Vietnam does not include some ingredients that the Muslim are not allowed to eat, and all the things in this specialty are completely fresh as well as processed in a rigorous way in order to remain the essence in the taste and aroma for a bowl of pho.
Pho Muslim is different in many parts of Vietnam, but in general, it is made of the same recipe. Pho is served with a special cut of flat noodles in clear broth. The broth of pho is made of stewed beef bones (for beef pho) and chicken bones (for chicken pho), with many additional spices such as cinnamon, ginger, onion, star anise, coriander seed, black cardamom, clove and fennel seed. All the ingredients meet in harmony in a bowl of pho, which leaves you unforgettable experience when trying this dish.
1. Halal Pho in Hanoi
Although the traditional home of pho is Nam Dinh, many people, both locals and tourists, might misunderstand that the traditional home of this specialty is Hanoi because you will easily find a food stall that sells pho in every corner of this city. Due to the increasing number of Muslim travelers in Hanoi in the recent year, there are many places for you to try halal pho in Hanoi.
Pho Muslim in Hanoi is served with fried bread, a typical dish in the North of Vietnam. When having a bowl of pho, you can add some spices that are available on the tables if you want such as a squeeze of lemon juice, fish sauce, chili sauce and vinegar garlic and bamboo sprout. Halal pho in Hanoi has a lot of variants, many of which are not broth-based such as sautéed pho, stir-fried pho, rolled pho and mixed pho. All of these dishes include fresh pho, beef, vegetables and dressings.
One more tip for you when eating halal pho in street food stalls Hanoi is that you should ask the caterers to remove beef boiled blood in your bowl because most of the stalls there include that food in pho. And for a prestigious address to enjoy pho Muslim in Hanoi, we have some recommended places for you:
D' Lions Restaurant

Location: Cosiana Hotel, 92 Le Duan, Van Mieu, Hoan Kiem District, Hanoi

Opening hours: 10.00 – 22.00 daily

Pho Thin

Location: 13 Lo Duc, Ngo Thi Nham, Hai Ba Trung District, Hanoi

Opening hours: 05.30 – 21.30 daily

Pho Bat Dan

Location: 49 Bat Dan, Cua Dong, Hoan Kiem District, Hanoi

Opening hours: 06.00 -10.00 and 18.00 – 20.30 daily
2. Halal Food in Haiphong, Vietnam
Though it is quite hard to find a halal restaurant outside Hanoi and Ho Chi Minh City, the two biggest cities in Vietnam, you can still have a halal meal in some tourism centers in Vietnam, one of them that you should consider is Haiphong. In this coastal city in North Vietnam, you will have a chance to experience halal food in Indian, Singaporean and Asian styles as well as vegetarian meals and local specialties.
Seafood in Haiphong
Haiphong has long had a good reputation for the fresh seafood that the fishermen catch in the local waters, and most of them are made of crab. Local people in Haiphong are favourable the dishes that have crab in the ingredient, from freshwater crab like field-crab hotpot and crab noodles to serrated-crab like spring rolls and salt-roasted crab. Beside crab, you can try other types of seafood such as codfish sausage, oceanic tuna, cuttle-fish, shrimp, anchovy and mantis shrimp.
Halal Food in Haiphong
This landscape provides Muslim travellers with a diverse selection of halal dishes, and there are some suggested restaurants for you:
Indian Restaurant

Location: 22D Minh Khai, Hoang Van Thu, Hong Bang District, Haiphong

Opening hours: 09.00 – 22.30 daily

Com Ga Singapore

Location: 116 Van Cao, Dang Giang, Ngo Quyen District, Haiphong

Opening hours: 10.00 – 22.00 daily

Loving Hut Long Hoa

Location: 308 Van Cao, Dang Lam, Hai An District, Haiphong

Opening hours: 07.00 – 13.00 and 16.00 – 20.30 daily
3. Halal Pho in Ho Chi Minh City
In Vietnam, beside Hanoi, Ho Chi Minh City is another ideal destination for the best halal pho in Vietnam. The way to make the broth and noodle of pho is quite similar to that one in Hanoi, but the garnishes in Ho Chi Minh City are much different. A typical bowl of Pho Muslim in this city is served with white and green onions, bean sprouts, chili peppers, lemon, Thai basil, cilantro and culantro.
In the center of Ho Chi Minh City, in the distance not very far from Ben Thanh Market, there is a food stall named Pho Muslim, where you can not only have pho for your meal but also the halal food there. The owner's family of this stall is Cham people worshiping Muslim migrating from An Giang, a center of Muslim in Vietnam. The foreign Muslim travellers often called the nearby neighborhood of Pho Muslim in Ho Chi Minh City is Saigon Halal Street because a lot of tourists choose this area to stop in their halal trip to Vietnam.
There are some recommended places for you to enjoy the best halal pho in Ho Chi Minh City:
Pho Muslim

Location: 25/18 Tran Hung Dao Street, Cau Kho, District 1, Ho Chi Minh City

Opening hours: 06.00 – 11.00 and 16.00 – 21.00 daily

Pho Hung

Location: 243 Nguyen Trai Street, Nguyen Cu Trinh, District 1, Ho Chi Minh City

Opening hours: 06.00 – 03.00 daily

Pho 2000

Location: 1-3 Phan Chu Trinh, Ben Thanh, District 1, Ho Chi Minh City

Opening hours: 09.00 – 22.00 daily
A halal trip to Vietnam will not be complete if you do not try halal pho there. The best halal pho in Vietnam for sure is in Hanoi and Ho Chi Minh City, where you will enjoy the flavor of fresh natural ingredients in Vietnam. Besides, halal food is available in many restaurants of tourist attraction cities in Vietnam. We wish you a wonderful food tour in Vietnam – our beautiful country.